Mosquito League News
11U (MOSQUITO)- Year of Birth 2006-2007
Mosquito baseball gives the kids their first opportunity to experience pitching. The teams play a schedule against other communities that includes 1 game a week (sometime twice) usually on Mondays (some Wednesdays in June). The teams will also practice at least 1 night a week. Games will start in April and the season will finish toward the end of June.
Please visit the coaches contact page for all team contacts.
Mosquito Provincials
Congratulations to La Broquerie on capturing the "AA" regional title and will be competing at the Provincials in Winnipeg from July 14th - 16th.
Congratulations to Steinbach on capturing the "A" regional title and, along with Niverville will be competing at the Provincials in Reston from July 7th - 9th.

Niverville - Provincial "A" Champions
Congratulations to the Niverville team for capturing the Provincial "A" Championship in Reston.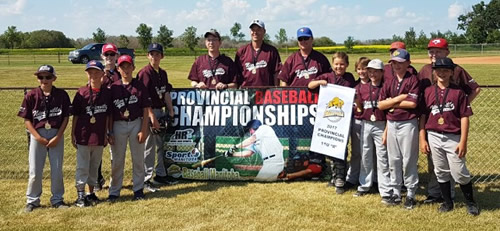 Mosquito Coaches Handbook (updated 2017)
Carillon Minor Baseball Association has updated it's Mosquito Coaches handbook for the 2016 Baseball season and strongly encourages all coaches and parents involved to review the document. Click here to open the PDF
Submitting Game Information
The Home team must submit games score and pitch counts to stats@carillonbaseball.ca. Ensure to include Date, League, Teams, Scores and Pitch count. (Please do not send photos of game sheets)
Sample format:
Mosquito - May 1st - Steinbach vs Kleefeld
Steinbach - 10
Kleefeld - 11
Steinbach Pitch Count
Jimmy Key: 45
Roger Clemens: 48
Kleefeld Pitch Count:
Aaron Sanchez: 29
Robert Osuna: 38