Umpire Clinics available in the Carillon Region
Level 1 Clinic April 11th at the Trans-Canada Centre in Iles Des Chenes. Registration 8:30 AM
Level 1 Clinic April 18th at the La Broquerie Arena. Registration 8:30 AM
Please pre-register for either clinic and/or direct questions by emails to Carillon Umpire in ChiefDave Forde
fordeofcanada@gmail.com
Carillon Minor Baseball Region of the Year!
Baseball Manitoba handed out it's annual awards November 22nd and the region along with several individuals won awards for their accomplishments this past season. The local winners were as follows:
2014 Region of the Year : Carillon Minor Baseball Association
2014 Volunteer of the Year : Alex Grenier (Seine River)
2014 Midget Player of the Year - co-winner : Nic Grenier (Seine River)
2014 Grassroots Coach of the Year : Curt Brandt (Blumenort)
Congratulations to all winners and you can read the complete story on Steinbach Online
Carillon Minor Baseball is RBI Approved!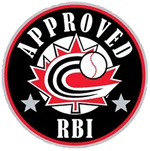 Baseball Canada is pleased to announce that Carillon Minor Baseball (Manitoba) is the 18th minor baseball association in Canada to become RBI Approved (Reaching Baseball Ideals).
Carillon is the fifth minor baseball association in Manitoba to achieve the designation joining Red River Valley, Winnipeg South, North Winnipeg and St. James Assiniboia.
"We believe Baseball Canada, Baseball Manitoba and Carillon Minor Baseball have improved baseball for our young athletes," said association president Louis Cote. "To be able to get recognized by our governing bodies goes a long way to showing our representation how well things are going as well as some outstanding public relations opportunities to get more kids involved in sport and baseball."
Click here to view the full article by Baseball Canada