2014 Season has arrived
The 2014 CMBA Baseball Season is upon us and hopefully dry warm weather will great our young players this year.
For all coaches and managers, The home team must send the following info via email to the league statistician that evening or the following morning. Email stats@carillonbaseball.ca and note league, date, teams/scores, pitch
count. Example email:
Peewee - May 3rd
La Broquerie 5 – Steinbach 4
Pitch Count La Broquerie
John Smith : 45 pitches
Mark Blak : 30 pitches
Pitch Count Steinbach
Jim White : 45 pitches
Jenny Green : 30 pitches
Carillon AAA programs
Information about the AAA programs for Peewee, Bantam, Midgets and Juniors has now been made available on the AAA Program page. Interested players are asked to contact the representative of each team in order to help with scheduling as space may be limited at for workouts / practices.
Carillon Minor Baseball is RBI Approved!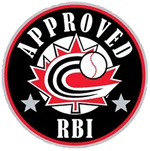 Baseball Canada is pleased to announce that Carillon Minor Baseball (Manitoba) is the 18th minor baseball association in Canada to become RBI Approved (Reaching Baseball Ideals).
Carillon is the fifth minor baseball association in Manitoba to achieve the designation joining Red River Valley, Winnipeg South, North Winnipeg and St. James Assiniboia.
"We believe Baseball Canada, Baseball Manitoba and Carillon Minor Baseball have improved baseball for our young athletes," said association president Louis Cote. "To be able to get recognized by our governing bodies goes a long way to showing our representation how well things are going as well as some outstanding public relations opportunities to get more kids involved in sport and baseball."
Click here to view the full article by Baseball Canada