Western Canadian Bantam Championships
Steinbach - August 13-16
The Carillon Minor Baseball Association Bantam AAA team is hosting the Western Canadian Bantam Championships this weekend in Steinbach. This is a great opportunity to see some great baseball and to cheer on our local stars.
The costs for the weekend are $20 for the weekend, $10 for a day pass and $5 for the last game of the day (which carillon plays on Friday and Saturday).
12 and under and players registered with the Carillon Minor Baseball Association get in free of charge.
A portion of the profits for the weekend will be going back to the CMBA to support future High Performance and Grassroots programs.
The entire schedule is at the following link :
Carillon Sultan's schedule is as follows:
Thursday August 13th - 3:00PM vs Saskatoon
Opening Ceremonies at 5:30PM in which the league has Ken Prociw throwing out the first pitch in honor of his years of service with the Carillon Minor Baseball League.
Friday August 14th - 8:30AM vs Alberta
Friday August 14th - 6:30PM vs Southcentral (Manitoba)
Saturday August 15th - 8:30 AM vs BC
Saturday August 15th - 6:30 PM vs Regina
Hopefully we can get some big crowds to help make the weekend successful for the host committee, the AAA Sultans Bantam Team and the Region in general, as we haven't hosted an event like this in quite a few years.
We would encourage anyone with a Carillon Sultans hat to wear it to the game as well (It may not be as big as a white out but we can try our best).
Carillon Minor Baseball Region of the Year!
Baseball Manitoba handed out it's annual awards November 22nd and the region along with several individuals won awards for their accomplishments this past season. The local winners were as follows:
2014 Region of the Year : Carillon Minor Baseball Association
2014 Volunteer of the Year : Alex Grenier (Seine River)
2014 Midget Player of the Year - co-winner : Nic Grenier (Seine River)
2014 Grassroots Coach of the Year : Curt Brandt (Blumenort)
Congratulations to all winners and you can read the complete story on Steinbach Online
Carillon Minor Baseball is RBI Approved!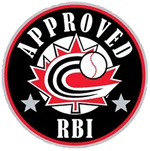 Baseball Canada is pleased to announce that Carillon Minor Baseball (Manitoba) is the 18th minor baseball association in Canada to become RBI Approved (Reaching Baseball Ideals).
Carillon is the fifth minor baseball association in Manitoba to achieve the designation joining Red River Valley, Winnipeg South, North Winnipeg and St. James Assiniboia.
"We believe Baseball Canada, Baseball Manitoba and Carillon Minor Baseball have improved baseball for our young athletes," said association president Louis Cote. "To be able to get recognized by our governing bodies goes a long way to showing our representation how well things are going as well as some outstanding public relations opportunities to get more kids involved in sport and baseball."
Click here to view the full article by Baseball Canada