2020 Baseball Season - COVID-19 Update
We are happy to announce that baseball will be returning to the Carillon Region next week. The return to train phase completed by Baseball Manitoba has been approved by the Provincial government and practices can begin June 8th. The return to play phase is expected to begin towards the end of the month. We consider ourselves very fortunate to have a season at all considering where the COVID restrictions were only a few weeks ago.
That being said, the season will not offer the same opportunities as a regular baseball season would have due to time lost and the restrictions in place. We are asking for patience in the process of returning to the field as it is not as quick as flicking the on switch. Baseball Manitoba has strict requirements in the return to train and the return to play phases and we believe patience is an acceptable request, as the requirements were put in place to keep your children, our volunteers, and all stakeholders healthy. Any adaptations to games and development opportunities caused by these requirements are well worth it to ensure health and safety.
We are looking forward to an exciting summer of baseball in our region and are hoping you will join us. For more information on baseball please contact your local association president and the Carillon Minor Baseball League Website for updates.
CMBA High Performance Registration
(AAA,AAA Prospects, and AA programs

)

Due to COVID19, Carillon will only be offering an 18U AAA team for the 2020 season. Our expectation is to offer the full complement of High Performance teams in 2021 for 18U, 15U and 13U.

For program information and registration, please visit the High Performance page.

High Performance Registration Information




Carillon Minor Baseball is RBI Approved!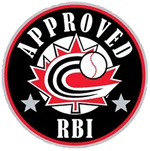 Baseball Canada is pleased to announce that Carillon Minor Baseball (Manitoba) is the 18th minor baseball association in Canada to become RBI Approved (Reaching Baseball Ideals).
Carillon is the fifth minor baseball association in Manitoba to achieve the designation joining Red River Valley, Winnipeg South, North Winnipeg and St. James Assiniboia.
"We believe Baseball Canada, Baseball Manitoba and Carillon Minor Baseball have improved baseball for our young athletes," said association president Louis Cote. "To be able to get recognized by our governing bodies goes a long way to showing our representation how well things are going as well as some outstanding public relations opportunities to get more kids involved in sport and baseball."
Click here to view the full article by Baseball Canada