Strength and Conditioning Camp
The Carillon Minor Baseball Association will offer a pre-season Strength and Conditioning program for players born in 2003, 2002, and 2001. The program will start on February 24 and run weekly (for 4 weeks) on Tuesdays at 7:00 at Ecole St. Joachim in La Broquerie and Sundays at 3:00 at Epic Fitness in Ste. Anne. The cost of the program is $100. Registration must be done in advance (at the link below or at carillonbaseball.ca) so we have an idea of numbers. We will likely cap the number at around 20, so first come first served. Ideally payment is done online, but if cheque/cash is preferred arrangements can be made.
The focus of the camps will be on the strength, conditioning and flexibility needed for baseball, as well as getting arm strength built for the coming season. Players will also learn proper techniques and strategies to maintain Strength and Conditioning though the season.
Please be aware that this program is not part of the tryout process for Carillon AAA or AA teams. Players participating in this program will not be given preference over non-participants once the tryouts start in April

.
If you have any questions feel free to contact Louis Cote at louis@carillonbaseball.ca
Carillon Minor Baseball is RBI Approved!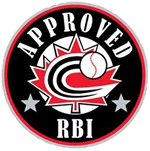 Baseball Canada is pleased to announce that Carillon Minor Baseball (Manitoba) is the 18th minor baseball association in Canada to become RBI Approved (Reaching Baseball Ideals).
Carillon is the fifth minor baseball association in Manitoba to achieve the designation joining Red River Valley, Winnipeg South, North Winnipeg and St. James Assiniboia.
"We believe Baseball Canada, Baseball Manitoba and Carillon Minor Baseball have improved baseball for our young athletes," said association president Louis Cote. "To be able to get recognized by our governing bodies goes a long way to showing our representation how well things are going as well as some outstanding public relations opportunities to get more kids involved in sport and baseball."
Click here to view the full article by Baseball Canada
XX