Carillon AAA & AA team fees are now required for 13U, 15U and 18U. Please click the registration link below for the various team fees.
Carillon High Performance Registration Link
Please see the
High performance page for more information on CMBA programs.
Carillon Minor Baseball is RBI Approved!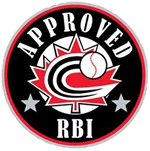 Baseball Canada is pleased to announce that Carillon Minor Baseball (Manitoba) is the 18th minor baseball association in Canada to become RBI Approved (Reaching Baseball Ideals).
Carillon is the fifth minor baseball association in Manitoba to achieve the designation joining Red River Valley, Winnipeg South, North Winnipeg and St. James Assiniboia.
"We believe Baseball Canada, Baseball Manitoba and Carillon Minor Baseball have improved baseball for our young athletes," said association president Louis Cote. "To be able to get recognized by our governing bodies goes a long way to showing our representation how well things are going as well as some outstanding public relations opportunities to get more kids involved in sport and baseball."
Click here to view the full article by Baseball Canada
XX